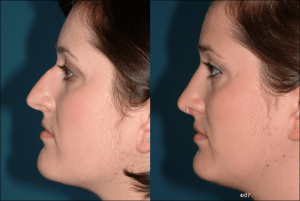 Few meaningful changes in life can occur in a week, but getting a new profile is one of them. I most commonly perform nose reshaping, technically called rhinoplasty, in Edina, MN, to help patients achieve balance among their facial features. As a double board-certified facial plastic surgeon, I am known across the Minneapolis-St. Paul area for natural-looking rhinoplasty results that make patients look as if they were born that way.
Why is rhinoplasty done?
Most people choose rhinoplasty (a nose job) to feel more attractive and confident. The procedure can provide a variety of benefits, including:
Making the nose smaller or larger
Adding definition to the tip
Correct minor crookedness
Fine-tuning or touching up a nose surgery done many years ago
Will it be easy to keep my nose job a secret?
It is usually not obvious that a person has had rhinoplasty. Most nasal surgeries are accomplished through incisions placed totally inside the nose. Most of the telltale signs of bruising and swelling resolve within 7 days. Typically, nasal packing is not used and most people have minimal discomfort.
How do I know I will like my results?
Communication with your facial plastic surgeon before rhinoplasty is key. During your consultation, we use computerized video imaging to simulate how different nasal shape changes can enhance your profile. You also see actual rhinoplasty results in my online photo gallery to get a sense of what can be done.
To see just what nasal reshaping can do for you, contact us online to arrange for your consultation with double board-certified facial plastic surgeon Dr. Edward Szachowicz or call (952) 835-5665.