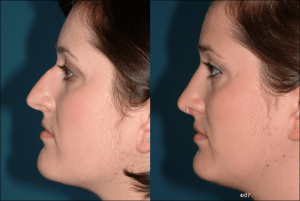 Few meaningful changes in life can occur in a week, but getting a new profile is one of them. Rhinoplasty or nose re-shaping, is most commonly done for when people are considering having a smaller nose, more definition to the tip or maybe even correcting some crookedness. Commonly, people also request rhinolpasty procedures to fine tune or touch up a nose surgery done many years ago.
Most nasal surgeries are accomplished with the incisions being totally inside the nose, and with most of the telltale signs of bruising & swelling resolved within seven days. Typically, nasal packing is not used and most people have minimal discomfort.
During our consultation, we use computerized video imaging which allows you to see just how different nasal shape changes can enhance your profile. You also see other rhinoplasty results to get a sense of what can be done. Click here to learn more about rhinoplasty or click here to contact our Edina, MN office to arrange for your consultation, and see what just nasal reshaping can do for you.