Facial Plastic Surgery: Edward Szachowicz, MD
4999 France Ave. S., Suite #210
Minneapolis, MN 55410
Phone: (952) 835-5665
Monday – Friday: 9:00 a.m.–5:00 p.m.

JUVÉDERM®
"The art of injectable fillers is knowing how a specific filler will interact with the aesthetic balance of the entire face."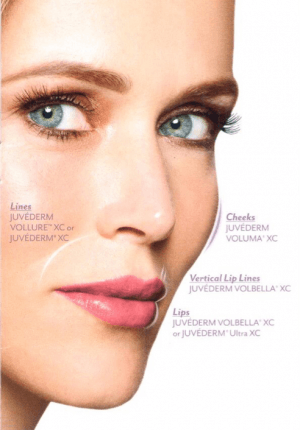 The JUVÉDERM collection of dermal fillers, available in the Minneapolis-St. Paul area at Facial Plastic Surgery in Edina, MN, includes a wide range of options formulated for specific facial aesthetics. Facial plastic surgeon Dr. Edward Szachowicz customizes his choice of fillers to each person's face and the specific area he is treating. Using the JUVÉDERM collection of dermal fillers, he can meet your individual facial rejuvenation needs with results that look natural.
About the JUVÉDERM Collection
All of the JUVÉDERM dermal fillers are made of hyaluronic acid, a material naturally found in our skin, joints, and even our eyes. As we age, we have less hyaluronic acid in the skin and tissues of the face. Gel dermal fillers are so popular with Twin Cities residents because these products can reverse the signs of facial aging by replacing hyaluronic acid. The JUVÉDERM collection of fillers has been designed for the following areas:
Cheeks
Lines and wrinkles around the nose and mouth such as nasolabial folds (smile lines, parentheses)
Lips
Choose an Artist for Your Filler Treatments
During your consultation with Dr. Szachowicz,
you can share your particular concerns and,
working with your input, Dr. Szachowicz will develop your customized dermal filler treatment plan,
so that you can optimize the choice of your dermal fillers for your best results.
While the choice of filler is important, the professional behind the filler is key to getting your best result. Dr. Szachowicz is an artist when it comes to the aesthetic placement of the dermal fillers. He has attended mastery classes defining the contours of the cheek quadrants, the dimensions and proportions of the lips, and the balance and proportions of the face. As a facial plastic surgeon, he not only accurately places dermal fillers, but also rejuvenates the face with cosmetic surgery.
Dr. Edward Szachowicz
(Sack-o-which)
Your face can reflect the way you feel inside through a facelift or another surgical procedure by Dr. Szachowicz.
Meet Dr. Szachowicz
People appreciate the education and experience that Dr. Szachowicz brings to dermal filler treatments and relax in the fact that their treatments are performed in a safe, professional medical setting. He takes pride in providing a comfortable and caring experience that includes the use of micro-cannulas and anti-bruising herbals to enhance results.
JUVÉDERM® ULTRA and JUVÉDERM ULTRA® PLUS
JUVÉDERM Ultra is a soft, water-clear gel containing hyaluronic acid—a remarkable substance that attracts and holds onto water. In the body, hyaluronic acid is abundant in the skin when younger, and diminishes with age, which is very apparent in the lips and around the mouth. JUVÉDERM Ultra is a smooth and soft gel material which is ideal for sculpting the:
Lips
Soft contours of the face
JUVÉDERM Ultra Plus is a thicker, more robust product used to treat:
Deeper nasolabial folds (smile lines)
Marionette lines extending from the corners of the mouth to the chin
Sunken or flat cheeks
JUVÉDERM VOLUMA® XC
JUVÉDERM VOLUMA XC is a nonsurgical treatment option for anyone with age-related volume loss in the cheek area (mid-face). The hyaluronic acid gel in VOLUMA is made with a unique VycrossTM technology that contributes to the filler's "lift capacity" and helps results last up to 2 years.
"Natural volume is the key to a youthful face. Contour is truly the defining dimension."
As the face ages, there is a loss of structure and volume "below the surface." Beginning around age 30, the natural fat pads of the cheek, which support and enhance the facial contours, begin to deflate and droop. At the same time, bone loss occurs in the entire face (osteoporosis of the cheeks and jaw), which also decreases support of the facial tissues.
JUVÉDERM VOLUMA XC is a three-dimensional filler for the cheek area. Its more robust structure is designed for deeper injection overlying the bony facial structures, which instantly recreates the youthful volume. Structural changes are more fundamental in creating a youthful look and comprise a more comprehensive approach to facial rejuvenation.
JUVÉDERM VOLLURETM XC
JUVÉDERM VOLLURE is a smooth, natural, and long-lasting gel filler for the parentheses or smile lines. Patient feedback shows that the optimal results can be achieved when facial volume is restored with a combination of dermal fillers, achieving a more a natural facial balance.
JUVÉDERM VOLBELLA® XC
JUVÉDERM VOLBELLA has been a top seller since its launch, as the most subtle lip filler available. VOLBELLA is the best gel filler to the lip region for people who feel that even the slightest over-correction would be too much. This filler gently inflates the lip and softens lip lines with the least addition of volume.
Risks of JUVÉDERM Dermal Filler Injections
Infrequent complications include: local injection-site reactions such as tenderness, swelling, firmness, lumps/bumps, bruising, pain, redness, discoloration, and itching can be seen. Very rarely, JUVÉDERM can be injected into a blood vessel causing more widespread effects such as skin loss or vision changes. The actual duration of the volume correction with JUVÉDERM products vary. With all skin injection procedures, there is a risk of infection.
Learn More About the JUVÉDERM Collection of Dermal Fillers
If you are considering any fillers or facial injections, it is important that you go to an experienced and artistic surgeon. Dr. Szachowicz is a double board-certified facial plastic surgeon and recognized national instructor for facial fillers who trains other physicians using his advanced methods. To learn more about JUVÉDERM and get your own customized non-surgical facial rejuvenation program, request a complimentary consultation using our online form or contact our Edina plastic surgery office at (952) 835-5665 today.
Initial cosmetic consultations are free! Given the information-rich nature of the initial consultation, we allocate about one hour to discuss procedures and/or services with the doctor. In order to make the best use of your time and the doctor's, avoid confusion concerning the initial consultation, and to help maintain an efficient and pleasant environment for all, please read our cancellation policy, in full, before your consultation.