Facial Plastic Surgery: Edward Szachowicz, MD
7373 France Ave. S Suite 508
Edina, MN 55435
Phone: (952) 835-5665
Monday – Friday: 9:00 a.m.–5:00 p.m.

Rhinoplasty
"Facial harmony is developed by balancing the size and shape of your nose with your overall facial proportions."
Rhinoplasty, also called nose reshaping surgery, is a surgical procedure designed to change the size and shape of the nose while balancing its proportions and aesthetic angles. Double board-certified facial plastic surgeon Dr. Edward Szachowicz performs rhinoplasty in Edina, MN, to help Minneapolis-St. Paul residents attain a nose that is aesthetically balanced with their other facial features.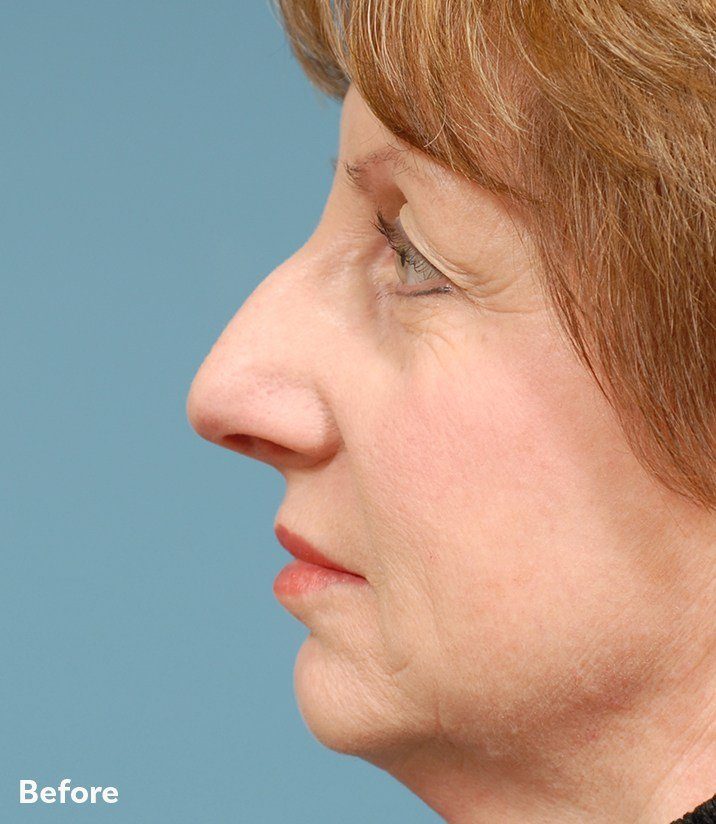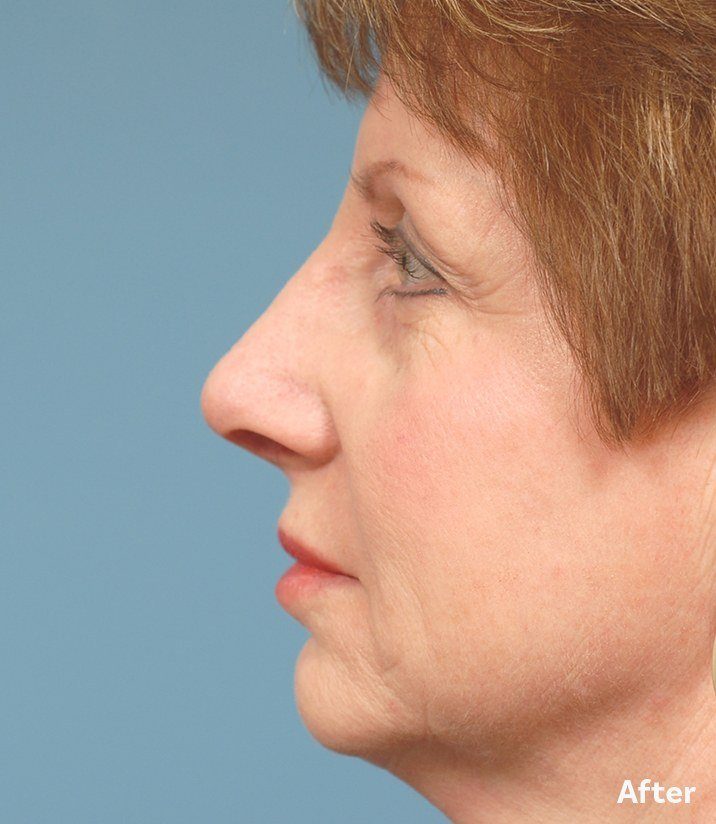 Rhinoplasty Patient
This 55-year-old female was interested in improving her profile. After rhinoplasty by Dr. Szachowicz, the patient was very pleased with her results.
Candidates for Rhinoplasty
It is important for Twin Cities residents considering rhinoplasty to understand that the overarching goal of the procedure is improvement, not perfection. The nose has many inherent asymmetries that must be taken into account and will not necessarily change with surgery. For example, one nostril may attach to the face higher than the other, the right profile may be different than the left, and one tip of the cartilage may be more prominent than the other.
During your rhinoplasty consultation, Dr. Szachowicz assesses a variety of important considerations, including:
Contours and shape of your face, including your chin prominence
Texture and thickness of your skin
Strength and position of the underlying cartilages, including the midline septum
Angles of the junction of your forehead/nose and base of nose/upper lip
Your height and whether you had orthodontia (braces) in the past
State-of-the-art rhinoplasty does not result in an "operated on" look. It should bring your nose into harmony with your face – not someone else's face. Pictures of other people's noses give you an overall sense of what proportions are pleasing to you, but the best rhinoplasty is the one that looks like you were born that way. Because rhinoplasty is so aligned with proportion, a chin implant may be recommended when needed, to balance the entire profile of the face.
Dr. Edward Szachowicz
(Sack-o-which)
Your face can reflect the way you feel inside through a facelift, rhinoplasty, or another surgical procedure by Dr. Szachowicz.
Meet Dr. Szachowicz
Value of Computerized Video Imaging
Computerized video imaging is an invaluable tool when considering rhinoplasty. This imaging tool allows for a detailed examination of the shape of the nose with different views. Video imaging enables you to visualize a simulation of your profile with a variety of changes, including:
Rotating the tip of your nose several degrees
Lowering the bridge of your nose different amounts
Adding a chin implant
Most often, people will come to their own aesthetic of what looks good for them, and this can be visually communicated to Dr. Szachowicz as your facial plastic surgeon. He takes this computerized video image to the operating room to act as a road-map for the goals of the surgery.
The Rhinoplasty Procedure
Dr. Szachowicz performs rhinoplasty with the patient either under sedation or a brief general anesthetic using one of the following techniques:
Closed rhinoplasty is performed through incisions inside the nostrils.
Open rhinoplasty is performed using a small external incision made across the base of the nose. This technique provides the access needed to perform more advanced work, such as the placement of cartilage grafts.
The most common type of rhinoplasty Dr. Szachowicz performs is reduction rhinoplasty where the overall 3-D volume and shape of the nose are reduced.  Advanced methods of rhinoplasty remove only precise amounts of the structural bone and cartilage to cause a change in shape, with every attempt to preserve as much of the natural shape and anatomy of the nose. In general, the procedure is performed as follows:
Using either the closed or open approach, the skin is separated from the underlying bone and cartilage structures.
The cartilages of the tip are then shaped; then most often are trimmed to make them smaller and more defined.
The hump (nasal dorsum or nasal bridge) is then lowered to match the tip.
If needed, the nasal bones are narrowed together to reduce the width of the nose.
The incisions are precisely closed, and the nose is supported inside (with a stent) and outside (with a nasal splint). No nasal packing is generally required.
The goals of the procedure may include the placement of cartilage grafts, usually taken from the inside of the nose. Nostril-reducing surgery and chin implant surgery can also be performed at the same time. Augmentation of the chin, when needed, is usually done first in the sequence of procedures so that Dr. Szachowicz can use the new profile to balance the nasal surgery. For younger patients, the nose must be fully developed before rhinoplasty  (usually by ages 15 to 16 in women, and slightly older for young men).
Revisional (Secondary) Rhinoplasty
Revisional or secondary rhinoplasty is done when there is some size, shape, angle or proportion that may need to be corrected after the original surgery. Dr. Szachowicz typically performs revision procedures using the open technique, which gives him optimal access to the surgical area. Any secondary surgery (revision) should be delayed for 6 months to a year after surgery to allow the healing process to complete. Again, video imaging is useful to understand what specific changes can be made to improve the overall result. Dr. Szachowicz has over 25 years' experience in rhinoplasty and has a wealth of knowledge. In revisional surgery, often small changes can enhance your result.
Recovery and Aftercare
At the end of the procedure, long-acting anesthesia is injected at the sites of surgery so there is little discomfort after surgery. Ice and normal pain medications are usually all that is required. Most of the subsequent swelling and bruising is usually removed within one week. The inside stent and outside splint are easily removed at one week. Although you can return to usual activities thereafter, Dr. Szachowicz recommends no strenuous activity for another week. Homeopathic arnica montana is given by pellets to reduce any swelling and bruising.
No Insurance Billing
Dr. Szachowicz is a non-participating physician with insurance carriers, and does not submit insurance claims from his office. You can check with your insurance plan to see if you can submit claims as a member of your insurance plan, but Dr. Szachowicz is not an insurance provider with any carrier.
Risks of Rhinoplasty Surgery
Infrequent complications of rhinoplasty surgery include bleeding, infection, asymmetries, and delayed difficulties in breathing.
Learn More About Rhinoplasty
If you are considering rhinoplasty, it is important to choose an experienced and artistic surgeon. Dr. Szachowicz has been doing rhinoplasty for over 25 years, and is a double board-certified facial plastic surgeon. To learn more about rhinoplasty and to have your own computerized video simulation, request a complimentary consultation with Dr. Szachowicz using our online form or call (952) 835-5665 for an appointment.
Initial cosmetic consultations are free! Given the information-rich nature of the initial consultation, we allocate about one hour to discuss procedures and/or services with the doctor. In order to make the best use of your time and the doctor's, avoid confusion concerning the initial consultation, and to help maintain an efficient and pleasant environment for all, please read our cancellation policy, in full, before your consultation.