DUAL Laser Skin Resurfacing
Facial Plastic Surgery: Edward Szachowicz, MD
7373 France Ave. S Suite 508
Edina, MN 55435
Phone: (952) 835-5665
Monday – Friday: 9:00 a.m.–5:00 p.m.

DUAL Laser Skin Resurfacing
At our Edina plastic surgery practice serving greater Minneapolis-St. Paul, MN, there are 2 major types of Fraxel® laser skin treatments available:
Fraxel Restore or DUAL laser — a safe a gradual laser treatment for the skin that stimulates the body to replace aged and photo-damaged collagen in the skin. The newest addition to the Fraxel restore is the DUAL system, which also contains a new laser that targets pigmentation in the skin.
Fraxel Repair — a CO2 (carbon dioxide) laser system which is a one treatment option for those with advanced aging of the skin.
Fraxel Restore and Fraxel DUAL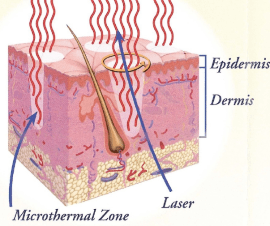 The Fraxel technology has revolutionized laser skin resurfacing treatments by using microscopic pixels or dots of laser light to stimulate the skin to form new collagen in the upper layers of the skin. Leaving normal healthy skin between the dots of the laser light promotes much more rapid healing and increases the safety and benefits from Fraxel laser treatments.
Fraxel laser skin resurfacing treatments therefore are divided into a series of treatments which have FDA-approved indications for the treatment of:
Improves skin tone & texture
Reduces unwanted brown spots (pigmentation)
Reduces fine lines & Wrinkles
Improves scars form acne, trauma, burns or surgery
Reduces the appearance of stretch marks
Fraxel restore laser skin resurfacing is safe for treatments on all areas of the body include the neck, chest, hands and even the delicate skin of the eyelids.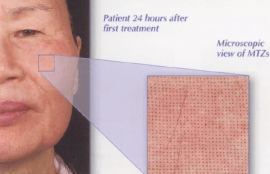 The Fraxel DUAL contains a thulium laser in addition to the erbium:glass laser of the restore. The erbium:glass laser penetrates deeply into the skin to regenerate new collagen to treat concerns such as fine lines and acne scarring. The thulium laser is then used in combination to target sun spots, age spots, and pigmentation in the upper layers of the skin.
Fraxel Restore and Fraxel DUAL Procedure
On the day of the procedure, the skin is cleansed and photographs are taken
Anesthetic ointment is applied 60-90 minutes prior to treatment
A cooling stream of air cools the handpiece as the skin is treated; generally approximately 20-25 minutes is required for a full face treatment
The area treated is cleansed and protected with an emollient and sunscreen.
Anesthetic ointment, the cooling handpiece and chill packs used during treatment are all used to keep the treatment comfortable.
Most treatments are very easily tolerated and feel like a mild sunburn after Fraxel. Deep acne or scars require the highest energy (deep treatment mode) and additional measures such as nerve blocks and sedation are used for comfort.
The number of treatments may vary with the goals of treatment, sessions are generally spaced 2-6 weeks apart:
Sun spots (excess pigment from the sun) usually require 1-2 sessions
Fine lines and wrinkles, improvement in tone & texture require 4 sessions
Scarring — acne, surgical scars and stretch marks (striae) require the most deep treatment mode and require 4-6 sessions

Understanding the Benefits of Fraxel Laser Skin Resurfacing Treatments
Fraxel restore and DUAL laser skin resurfacing is a cornerstone in a skin maintenance program. The benefits to you are:
Smoother, fresher, younger looking skin
Improved skin tone & texture
Reduction of unwanted pigmentation from the sun
Improvement in fine lines and wrinkles
Improved appearance of acne scar, surgical scars and stretch marks
Skin care recommendations are included in the post-treatment care plan. Skin bleaching creams and protective sunscreens are necessary to prevent the recurrence of pigmentation after treatment. An anti-aging skin care regimen is usually recommended after a series of Fraxel laser skin resurfacing to maintain the youthful appearance of your skin.
We are happy to offer Fraxel restore and DUAL laser skin treatments at our Edina, Minneapolis practice, as they are safe, effective, and can be repeated as necessary with no side effects. Clients can have sun-induced pigment removed after each season to maintain skin clarity and brilliance. After a series of Fraxel treatments are completed, specific areas can be treated, such as around the eyes, to minimize the formation of fine wrinkling. We encourage all Fraxel clients to have an "anniversary" treatment at least yearly.
Dr. Edward Szachowicz
(Sack-o-which)
Your face can reflect the way you feel inside through a facelift, rhinoplasty, or another surgical procedure by Dr. Szachowicz.
Meet Dr. Szachowicz
Risks of Fraxel restore and DUAL laser skin resurfacing
Fraxel restore and DUAL laser skin resurfacing is safe and effective. Anti-viral treatment is suggested before treatments if there is a strong history of cold sores (herpes). Although healing is rapid, the skin needs to be protected after the treatment until healing is complete. There should be no strong sun exposure until after the initial redness of the healing has faded. Sun protection is recommended to protect the skin from further photo-aging, and unwanted pigmentation. Clients with darker skin types may experience some hyperpigmentation after treatment which may require treatment. Melasma may not be improved with Fraxel restore or DUAL therapy. Acne flare-ups and possible scarring is possible. Fraxel treatments are not recommended if you are pregnant.
Learn More About Fraxel Restore and DUAL Laser Skin Resurfacing
To learn why Fraxel is the national standard for laser skin resurfacing, or to arrange your own consultation to see how laser skin treatment can help you achieve better, smoother, and younger-looking skin, request a complimentary consultation online or call (952) 835-5665. We proudly offer laser skin treatments at our plastic surgery practice in Edina, MN, as we are committed to providing our patients with the treatments they demand.
Initial cosmetic consultations are free! Given the information-rich nature of the initial consultation, we allocate about one hour to discuss procedures and/or services with the doctor. In order to make the best use of your time and the doctor's, avoid confusion concerning the initial consultation, and to help maintain an efficient and pleasant environment for all, please read our cancellation policy, in full, before your consultation.