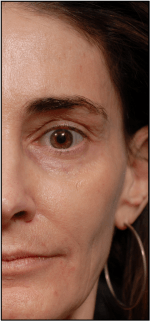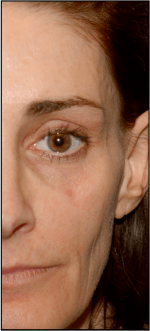 One of the most consistent methods of correcting hollow temples uses dermal fillers, such as:  Sculptra and Voluma. These fillers, when placed in the fat pad below the temporal muscle, lift the entire temple region. The outer eyebrow position is also improved when the hollow is corrected. Instead of the outer edge rounding a steep corner, the outer eyebrow molds gracefully over the fuller temple region.
Collagen Stimulating Dermal Filler
Sculptra is a unique filler which stimulates new collagen formation when injected into the fat pad in the temple. Usually three treatments are required for a gradual improvement in the hollow temples which can be seen over 90 days. Sculptra usually lasts about a year.
New Instant Correction Gel Filler
Voluma is a new gel filler designed for deep injection. Upon injection, there is an instantaneous filling in the temple. Usually, one syringe of product is used per side, but more may be needed but deep hollows or if clenching or grinding is present. Voluma is also a long-lasting filler of about a year in duration.
Usually there is little, if any, bruising and you can return to your activities right away.
Click here to learn more about correction of deep temple hollows or to schedule an appointment in Minneapolis/St. Paul for these injectable dermal fillers.